Het heeft even geduurd, maar de vlag mag uit: het nieuwe album Hot Love Disk van Herb's Excellent Adventure ligt in de shops! De webshops welteverstaan, want het album is alleen digitaal verkrijgbaar. Je vindt de plaat onder meer bij iTunes en Amazon.
Uiteraard is Hot Love Disk ook te streamen via de bekende kanalen, waaronder Spotify, Apple Music, Deezer, Tidal en Google Music Play.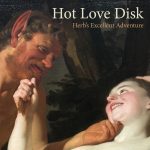 Het is weer eens een meerjarenproject geworden, maar we hebben zo'n vermoeden dat het de moeite waard geweest is. Arnaldo López tekent voor de opnames, Danny Rosendahl heeft wederom de mix en productie op zich genomen. Gastoptredens zijn er van Billy Maluw (toetsen op In Front Of You), Sebastiaan Wiering (cello in Loud) en Arnaldo López (akoestische gitaar in Loud, toetsen in The Finale).
Vind jij iets van deze plaat, positief of negatief? Laat het ons weten, we kunnen er tegen. En als we je overtuigd hebben, deel dat goede nieuws dan met zo veel mogelijk mensen. Onze dank daarvoor grenst nu al aan hondsdolheid.
De presentatie van Hot Love Disk is vandaag, vrijdag 28 april 2017, om 21.30 uur in P3 te Purmerend. Tot dan dan? Mooi!
Zo niet: oefen dan alvast onderstaande moves voor een volgende keer. Enjoy!